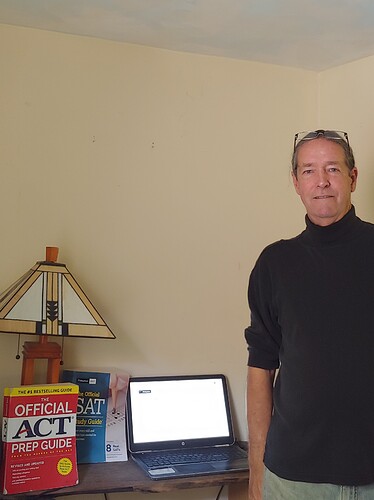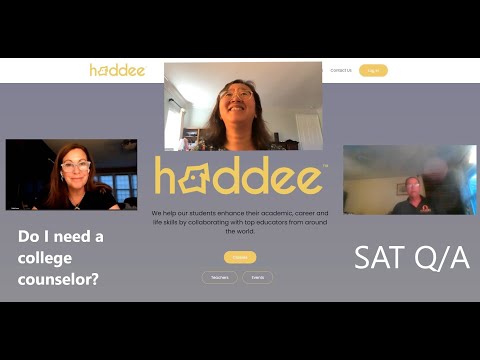 1st part of the video is Mr. Lawrence giving a talk on SAT/ACT landscape. The 2nd part is our college counselor, Ms. Anton, sharing her view about this holistic process: College Counselling Service by Ms. Anton - #2 by Haddee_Dandan
SAT Prep workshop (including both Verbal and Math Section)
Offered by Mr. Lawrence
12-hour Live Session Program:
Teaching experience: 15 years
Steve Lawrence Bio: Mr. Lawrence has a Master of Fine Arts in English/Creative Writing from the Pennsylvania State University, and he has taught English Reading and Writing classes at the College, High School, and Middle School levels at various times since 1989. But before he switched his focus to English, he scored an 800 on his Math SAT, and he entered college as a Computer Science major, so in addition to teaching, he spent over 20 years working in the Computer and Data Technology field, combining his math and communication skills to create technical documentation for computer support and secure data transfers.
While he was in the business world, he began tutoring and teaching SAT Math skills and tactics, one-on-one and in classroom settings, and he soon branched out to offer similar instruction on the ACT Math and Science sections, as well as the Verbal portions of both tests. He discovered he preferred the rewards of small classes and one-on-one tutoring to any of his previous modes of employment, so since 2015, he has devoted himself solely to teaching Test Preparation skills, working for large Learning Centers such as Sylvan and Huntington before settling into his current position as the Assistant Director of an Educational Service Center. He now meets with students full time, virtually and in person, and in addition to SAT and ACT Prep, he can also offer test preparation for the three primary Independent School Entrance Exams used in the United States to assess the readiness of prospective entrants into U.S. Independent Middle Schools and High Schools. He says he takes great joy from the success stories he hears from former students, and his mission is to help each of them achieve their target scores and attend their first school of choice.
Outcome:
For a 12-hour SAT or ACT Prep program, 1.5 hours each time, twice a week, the average improvement on SAT is 140 and the average improvement on the ACT is 4.
Mr. Lawrence's student, after taking a 36-hour program with Mr. Lawrence, has improved ACT from late 28s to 36 for both Math and Verbal.
For any questions, please contact:
hello@haddee.com
858 449 9689
WeChat: pdd1happy
Please feel free to follow our Haddee channels.
Haddee YouTube: Haddee - YouTube 3
Haddee Facebook: Haddee.com - Home | Facebook
Haddee LinkedIn: https://www.linkedin.com/company/haddee-com
Haddee Instagram: https://www.instagram.com/
Haddee Twitter: https://twitter.com/HaddeeC 1
Haddee Pinterest: https://www.pinterest.com/HaddeeEDU/_created/ 1
Facebook group: Facebook Groups
Thank you for your interest and participation! You will have so much fun with this amazing program!
Haddee Team