Quick Info
Course: Responsive Reading
Teacher: Ms. Danner
Schedule(s): 1. US | Grades 8-11 | 9/6-12/24, Tuesdays, 5:00pm MDT
2. Asia | Grades 8+ | 9/6-12/24, Tuesdays, 6:00am MDT / 8:00pm BJ
Number of Live Sessions: 12
Price(s): 1. US | 480 USD
2. Asia | 3576 RMB






Teacher Profile
Ms. Danner has been involved in education for over 30 years, spanning from teaching Chapter One Reading to students who needed to improve in their reading skills. Her Reading certification and special education degree also covered K through 12th grade, and her double Masters in Education and Technology, along with an administrative certification also brought her the opportunity to teach at the university level. Ms. Danner is an advocate of reading; she enjoys teaching and helping students to not only improve in their reading but to also learn to enjoy the passion that can come with being an avid reader. Ms. Danner has provided thousands of students over the years learn to improve their reading efficiency and effectiveness. Her Responsive Reading Program does just that. It not only helps students and adults improve their reading rate per minute (RPM) but also provides methods that will help the reader comprehend material more effectively. Her truth, passionate and philosophy is that Reading is Meaning and we need both speed and comprehension to become a responsive reader! Please join her on this educational reading journey~
Course Description
This course explores different approaches (strategies) for reading in less time, but also provides methods for helping the student support their comprehension of the written material, as well. A variety of WPM (Words per Minute) strategies will be taught to the students, each student will practice the reading strategy, record it in their personal journal. Students will also learn comprehension methods that will improve their retention of the text read. By the end of the course, each student will be able to choose which strategies help him/her to achieve their WPM reading goals and which method helped them to remember the information they read.
Student Learning Outcomes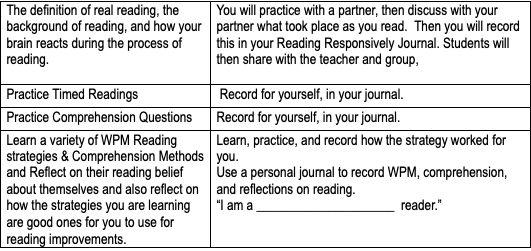 Class Schedule Overview
Class 1: Overview
· Bring materials listed to all classes in this course.
(Pen and Pencil, 1 or 2 books at your reading level, and at least three articles of
topics you'd like to learn about at your reading level.)
· Learning the function of reading, sharing our background of reading, and learn
and experience the human function of reading.
· Learn how to improve your speed by eliminating behaviors that slow you down.
· Test yourself for your WPM reading, and your Comprehension percentage %.
· Create a reading list of books, short reading material.
Fluency Strategy #1:
Pacer Tool
Reading with a pacer (index card, ruler, and white blank paper).
Class 2: Learn and practice Fluency strategy #2
Peripheral Vision 'breaking'.
Eye Span-Phrase flashing
Fluency Strategy #3
Left Side Pull
Concentration-Focus 'Have-To's'
Pointer method
Warm-Ups
Class 3: Learn and practice
Fluency Strategy #4
(Gaining the Goods)
Fixation Speed
Poor Concentration Fixes to up your reading game!
  Meditation


  Breathing Exercises


  Linear Reading – Let's change this😊


  Prioritizing

Class 4: Reading in the Brain, the ancient days overview.
Languages, and how they are set up for reading.
Fluency Strategy #5
Note Taking and other Memory aids
Class 5: Learn and Practice
Fluency Strategy #6
Reading Key Words
Reading in thoughts, groups, phrases
Class 6: Learn and Practice
Fluency Strategy #7
Reading between the lines
Class 7: Learn and Practice
Fluency Strategy #8
Photo Reading, bullets, and bold print
Reading quickly but with details that are displayed in text.
Class 8: Learn and Practice
Fluency Strategy #9
"Critical Reading
(Pen Push)
Pen Push – Down
Pen Push - Across
Class 9: Learn and Practice
Fluency Strategy #10:
Open Hand Wiggle
and Metronome use in reading.
Class 10: Learn and Practice
Fluency #11: Skim, Scan, Skip Understanding and knowing what's important
Class 11: Learn and Practice
Fluency Strategy #12
Meta Guiding
Fluency Strategy #13
Quantum Speed Reading
Speed Reading Software
Embedded Dictionaries
-Microsoft Edge
-Cortana
Fluency Strategy #14
Blink/Block Strategy
Additional Strategies ~
Class 12: Overview/Review, Practice, Record
Discussion, and Questions
Reflection
"I am a(n) ____________ reader!"


Questions? Contact us!
hello@haddee.com
858 449 9689
WeChat: pdd1happy
Please feel free to follow our Haddee channels.
Haddee YouTube: Haddee - YouTube
Haddee Facebook: Haddee.com - Home | Facebook
Haddee LinkedIn: https://www.linkedin.com/company/haddee-com
Haddee Instagram: https://www.instagram.com/
Haddee Twitter: https://twitter.com/HaddeeC
Haddee Pinterest: https://www.pinterest.com/HaddeeEDU/_created/
Facebook group for G5-G12 resources: Facebook Groups
Thank you, and enjoy this amazing program!
Haddee Team