Quick Info
Course: Introduction to Creative Writing & Reading
Teacher: Ms. Miano
Schedule(s): 1. US | Grades 5-6 | 9/7-12/23, Tuesdays, 4pm PDT
2. Asia | Grades 5-6 | 9/7-12/23, Mondays, 8pm Beijing Time
Number of Live Sessions: 16
Price(s): 1. US | 640 USD
2. Asia | 4768 RMB
About the Teacher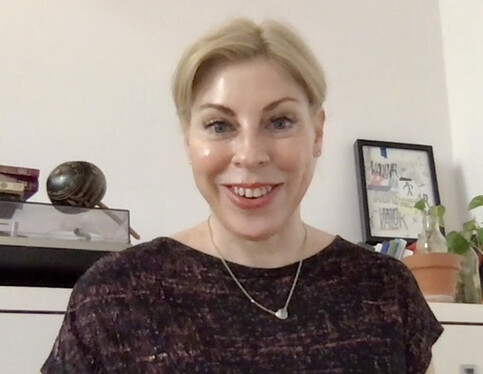 Ms. Miano is a writer and teacher from New York. Ms. Miano holds a BA in English Literature from North Carolina State University, with minors in Journalism, Creative Writing, and Art History. While completing an MA in Creative and Critical Writing in England, Ms. Miano studied under the then UK Poet Laureate and the late great German writer, W. G. Sebald. Her two novels, Encyclopaedia of Snow and Van Rijn (for which she won the UK Arts Council Award), were published to wide international acclaim in 11 countries. In addition to her fiction, Ms. Miano's literary criticism, arts, culture and travel articles, as well as restaurant reviews, have appeared in prestigious journals and newspapers, such as The Times, Guardian, Observer and Telegraph. Book tours, lectures and readings have taken her across the globe. An avid traveller, explorer, and educator, Ms. Miano has cultivated a skill for teaching in a diversity of places and settings, whether in classrooms or in-person. She has offered group classes and private one-on-one coaching for more than 15 years. Through her work for Alo7 and The Walrus School, Ms. Miano has conducted numerous online lessons with both children and adults. She is passionate about teaching creative and critical writing across a variety of genres, from stories to feature articles, poetry to critical essays. Ms. Miano welcomes students of all skill levels and experience, a diversity of backgrounds, races, cultures and gender identities. She currently lives in Buenos Aires, where she's working on her forthcoming book, Buffalo Wings, and learning the tango.
SELECTED PUBLICATIONS
FICTION:
Crazy God, a collaboration with photographer Yvonne de Rosa, Damiani, Italian & English, April 2008
Van Rijn, a historical novel, published by Picador Macmillan UK, 2007
Encyclopaedia of Snow, a novel, published by Picador Macmillan UK, 2003
NON-FICTION:
Review of the Walter Benjamin archive at Le Musée d'Art et d'Histoire du Judaïsme, Paris, FR, Paris Update, 2011
"Honey and Spice and All Things Nice", restaurant review of Miel et Paprika, Paris, FR, Paris Update, 2011
Review of "The Sorrows of An American" by Siri Hustvedt, The Times, London, 23 May 2008
"A Radical in the Garden", on Burning Bright by Tracy Chevalier, The Times, London, March 2007
"The Traveller," preview of the art exhibition Waterlog, The Guardian, London, February 2007
"Photographic Memories," review of Moral Disorder by Margaret Atwood, The Times, London, September 2006
"Betrayal of a Blood Brother", interview with Spanish author Javier Marías, The Observer, London, May 2005
Class Description
This hybrid workshop/seminar course welcomes students of beginner to intermediate levels who want to develop or learn new writing skills. Students will discover their unique voices alongside personal strengths and ways to draw on them. For the seminar aspect, we'll learn key principles of writing and reading, such as: genre, plot, character development, points of view, description, dialogue, story structure, and scene-setting. Each class will focus on a specific technique or method that students can then try out in their writing. Students are welcome to bring an idea for a specific project to complete during the course, but it is not required. Writing prompts will be provided as assignments each week. Experimentation is highly encouraged! Students will take turns submitting a piece for consideration, which we'll discuss collectively in an informal and inspiring setting. Constructive, in-depth, feedback will be provided by not only the teacher but also fellow students. Together we'll form a supportive community that encourages and inspires one another.
Objectives
— Examine the shapes and structures of different stories
— Study major types of openings, ways to invite, connect to, and engage readers
— Explore options for points of view
— Identify factors involved in creating characters
— Practice writing in short form, such as for flash fiction, blogs, college essays
— Learn about different genres and opportunities for combining them
— Study how to create a coherent, cohesive plot that drives action
— Create scenes and dialogue between believable characters
— Practice editing and revision
— Build a personal toolkit for generating ideas, creating outlines, adopting a schedule
Outcomes
An understanding of:
-creative writing and reading fundamentals on an AP-Level
-writing conventions that could expand into your discipline area
-ways to approach creative, critical, and reflective thinking
-reading with an understanding and articulating meanings and themes
-expansion of vocabulary, correct grammar and sentence structure variation
-writing and reading "outside the box" for advanced SAT / ACT scores
Timeline
12-week course
Group
Minimum of 4 students; maximum of 8 students
Materials
— your imagination
— a small writing journal to take with you everywhere
— a notebook for class
— your favorite pen or pencil
— a computer with Zoom application
— ability to share files via Google Docs, Microsoft Word or in PDF format
Syllabus
Prologue. Beginnings
Chapter 1. Structures & Shapes of Stories
Chapter 2. Narrators & Points of View
Chapter 3. Creating Characters
Chapter 4. Scene-setting
Chapter 5. Description
Chapter 6. Genre
Chapter 7. Plot
Chapter 8. Dialogue
Chapter 9. Timelines
Chapter 10. Conflict & Resolution
Epilogue. Editing & Revision
Questions? Contact us!
hello@haddee.com
858 449 9689
WeChat: pdd1happy
Please feel free to follow our Haddee channels.
Haddee YouTube: Haddee - YouTube 3
Haddee Facebook: Haddee.com - Home | Facebook
Haddee LinkedIn: https://www.linkedin.com/company/haddee-com
Haddee Instagram: https://www.instagram.com/
Haddee Twitter: https://twitter.com/HaddeeC 1
Haddee Pinterest: https://www.pinterest.com/HaddeeEDU/_created/ 1
Facebook group: Facebook Groups
Thank you, and enjoy this amazing program!
Haddee Team