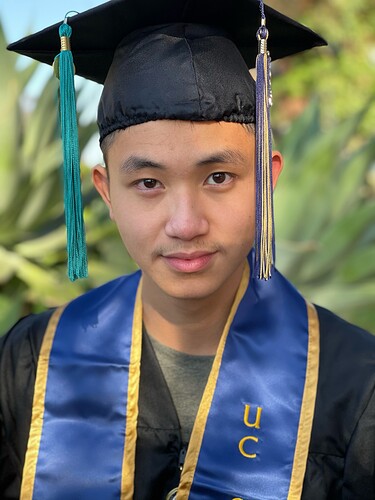 Game Design for Beginners by Mr. Cai
The goal is to teach kids to design games and start their own ventures.
At the end of the Project, students will design a game!
The program is suitable for students with some Python background or without any Python background. Mr. Cai has a plan to teach both types of students and have them collaborate on the project.
Targeted Students:
G6 to G9
Schedule
Friday and Saturday: 3:00pmPDT to 4:00pm PDT
Dates: 6/25/2021 to 8/18/2021
Live sessions: 16
Minutes per Live Session: 60
Minimum # of students: 4
Maximum # of students: 8
Registration
Please fill out this form to register for this course!
Payment:
**Please use this link to pay.
Payment: **[USD $640 ]
This class is for any student who desires to learn python and game development in the python coding environment through pygame.
The course will meet for 60 minutes each week for 16 weeks.
Teacher Profile
Mr. Cai graduated with a bachelors from UCSD in 2 years with a major in Cognitive Science (Machine Learning and Neural Computation). His background is in Artificial intelligence which has bolstered his coding ability. He developed his first game through scratch, a 2d platformer based around avoiding accelerating obstacles in highschool. Mr. Cai continued to develop games in java and python. He currently coaches two entrepreneurship teams in game development, one is developing an fps style battle royale tank shooter while the other is developing a storybook game.
About the Class:
This course is designed to
teach students core python coding tools such as operators, conditionals, for and while loops;
teach students how to import and apply python libraries;
help students consolidate and solidify ideas while designing game;
help students develop and understand the math involved in game development;
give students the tools to produce their own games in the future.
The course will be student-driven in the sense that instead of the teacher lecturing the entire time, it will be taught through a student sharing their screen as the teacher guides them through the process. Screen shares for the day will rotate among the students to ensure active engagement. This approach ensures that the students are engaged and understand the material. Note the material is subject to change at the discretion of the teacher.
Syllabus for the Program:
Session 1 Introductions and Python coding environment setup (Anaconda Navigator)
Session 2 Introduction to Python (variables, operators, conditionals, functions)
Session 3 Introduction to Python II (while/for loops, lists, input(), return, break)
Session 4 Python minigame development
Session 5 Python libraries (numpy, pandas, pygame, random, etc;)
Session 6 Game Design ideology
Session 7 Setting up and understanding Pygame
Session 8 Math and logic behind game mechanics
Session 9 Game Concept and Mechanics
Session 10 Game Updating Positions
Session 11 Game Development
Session 12 Game models
Session 13 Math and logic behind game mechanics
Session 14 What makes a good game? How to engage players?
Session 15 Testing Game
Session 16 Final additions
For any questions, please contact:
hello@haddee.com
858 449 9689
WeChat: pdd1happy
Please feel free to follow our Haddee channels.
Haddee YouTube: Haddee - YouTube
Haddee Facebook: Haddee.com - Home | Facebook
Haddee LinkedIn: https://www.linkedin.com/company/haddee-com
Haddee Instagram: https://www.instagram.com/
Haddee Twitter: https://twitter.com/HaddeeC
Haddee Pinterest: https://www.pinterest.com/HaddeeEDU/_created/
Facebook group for G5-G12 resources: Facebook Groups
Thank you and you will have so much fun with this amazing program!
Haddee Team