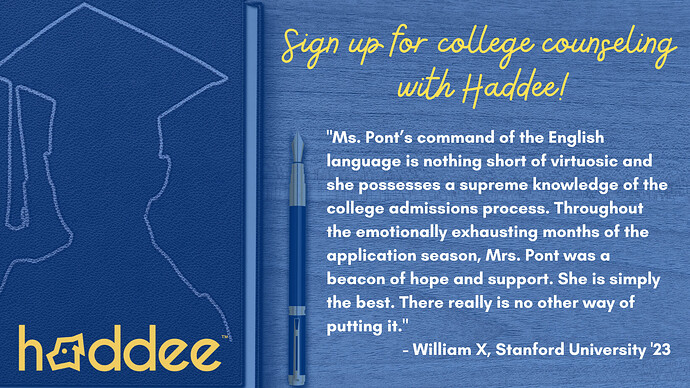 Ms. Pont is a college counselor and a writing teacher. In addition to teaching writing courses at all levels, she has visited hundreds of universities around the world and has experienced much success guiding students through the college preparation and application process. She coaches students to achieve at the highest levels throughout their high school careers and helps prepare applications that allow students to stand out from their peers. Assisting students in writing authentic and compelling college essays is her specialty. In the past three years, she has helped students earn admission to Harvard University, Yale University, Stanford University, Princeton University, the Massachusetts Institute of Technology, and Williams College, among other prestigious schools.
Please review the list of schools that Ms. Pont's students are accepted into for the latest 3 years.
College Acceptances 2018-2020.pdf (66.0 KB)
Ms. Pont received her BA in English from the University of North Carolina-Chapel Hill and her MFA in creative writing from Penn State University. She has taught AP English Language and Composition as well as AP English Literature and Composition; she has coached students on the verbal portions of the ACT and the SAT. Certified to teach ESOL, she has worked with international students from all over the world.
Ms. Pont has made a career of helping students meet their educational goals. She sets high standards for her students, and she finds the means for the students to meet those standards. Along the way, she does everything in her power to ensure that the students become self-aware and confident.
College Counselling Services
Planning and coaching throughout the entire high school (from the agreement Signed Date to May 1st of the Graduation Year)
No set college numbers included in the service package and the school number is mutually agreed upon.
Communication sessions (live Zoom sessions, emails, Forum, texting, WeChat) are mutually agreed upon and mutually convenient.
Planning of course selection for each academic term, as well as the creation of a four-year plan
Planning extracurricular activities and pathways of extracurricular interests with the student: research, competitions, clubs, volunteering, internships, etc.
Planning extracurricular classes with the student – academic and practical courses
Planning and coach summer program applications if applicable.
Helping review correspondences to teachers/school counselors/internship coordinators/award applications if needed
Planning final college application list. The final school list will be approved by both students and parents.
Brainstorming the ideas of the Common Application essay as well as Supplemental Essays with the student.
Editing any necessary informational documents regarding letters of recommendation (BRAG Packet, etc).
Ensuring students are timely with all their submission deadlines.
Editing all the essays before submission.
Ensure all the applications are complete and stellar before submission.
Preparing students for college interviews
Helping students decide college decisions
Seeking scholarship opportunities if applicable
Coach for additional ideas for wait-listed schools and review respective correspondences
Secondary School (Private) Application Counselling Services.
All above services with respect to secondary/private school application.
Help parents prepare their personal statements for schools.
To book an initial consultation with Ms. Pont, please contact us:
hello@haddee.com
858 449 9689
WeChat: pdd1happy
Please feel free to follow our Haddee channels.
Haddee YouTube: Haddee - YouTube
Haddee Facebook: Haddee.com - Home | Facebook
Haddee LinkedIn: https://www.linkedin.com/company/haddee-com
Haddee Instagram: https://www.instagram.com/
Haddee Twitter: https://twitter.com/HaddeeC
Haddee Pinterest: https://www.pinterest.com/HaddeeEDU/_created/
Facebook group for G5-G12 resources: Facebook Groups
Thank you and you will have so much fun with this amazing program!
Haddee Team